The world of exhibitions can be a little overwhelming, at first, if you are new to it. Terminology such as roller banners, pop up displays and shell schemes can be confusing to the untrained eye. This blog post aims to provide an explanation of two of the most popular products we sell here at Nutcracker, the roller banner and pop up display.
Roller Banners
The roller banner stand is the staple of any exhibition due to their ease of use and budget friendly price tag.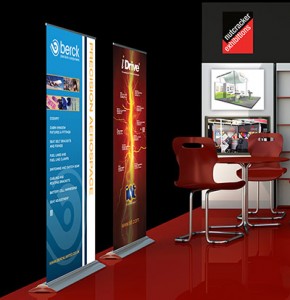 Available in many sizes, ranging from 800mm wide, the stands offer great versatility however small or large the exhibition space.
Assembling a stand is easy with the graphic unrolling from the bottom of the base unit and attaching using a telescopic pole.
Assembly is simple
Inexpensive
Ease of storage
Small footprint area
If you need a quick and inexpensive way to advertise your business at an exhibition then a roller banner may be the choice for you.
Pop Up Displays
A pop up display is much larger than a roller banner stand whilst still remaining easy to set up and store.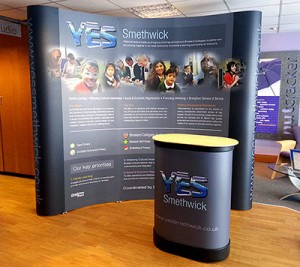 Pop up displays are much wider than banners, with sizes of 2.5m wide and upwards. This makes an ideal solution for a backdrop to an exhibition stand and can be used to compliment other items such as roller banners.
The storage case for a pop up display doubles up as a display counter which can be customised with your branding.
One person assembly
Graphics are attached with magnets
Variety of sizes are available
Combined storage case and display counter
Pop up displays are a great way of increasing your presence at an exhibition without going for a full exhibition stand. Combining roller banners and pop ups will give your business an impressive exhibition stand whilst still remaining relatively budget friendly.
Which is Right for Me?
The first factor to take into consideration is budget. How much do you have to spend and what are your goals? If your exhibition space is relatively small then a couple of roller banners may be what you need. For a more impressive stand, which has more space, a pop up display will be the way to go.
Contact Nutcracker Exhibitions with your requirements, we would be more than happy to assist you with any questions or enquiries you may have.