Creating an exhibition stand can be one of the most expensive forms of marketing so making the most of it should be of most importance. What are your goals for the exhibition, do you want to increase sales or gain leads? In the following blog post I will describe how to make your exhibition stand out through the use of various tried and tested methods.
Offer Prizes for Competitions
Competitions are a great way of interacting with trade show visitors. Entertainment is the key to this one, make the competition interesting for visitors by thinking outside of the box. Nobody wants to sit there and fill out a long, tedious form just to enter a competition. Even forms can be made interesting through the use of interactive media such as mobile apps.
Give Away Free Items
Free stuff always goes down well at exhibitions but make it useful. Gift codes for new products can create an initial buzz at launch time. Look at your target audience and try to imagine what they will find useful, office workers for example will find pens and pads useful in their work.
Interactive Stand
Making your exhibition interactive is a great method of how to make your exhibition stand out. Computers, tablets and TV's are all ways of creating a point to interact with on your exhibition stand. These can display the company's website or other promotional material.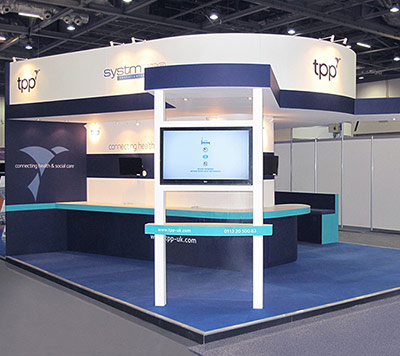 Demonstrations
Physical demonstrations create movement on your exhibition stand which attracts the attention of passers-by. An expert showcasing the product will show how easy it is to use and what value it offers to potential customers. Asking visitors to use the product themselves makes it more memorable for the user. This is how to make your exhibition stand out from the rest.
Choose the Right Staff
A passionate, enthusiastic member of staff will make a huge difference in attracting visitors to the exhibition stand. However, someone who isn't interested will instantly turn visitors away from the stand. Never leave the stand unattended and have staff take breaks in turn so visitors will always have someone to engage with.
Live Social Media Updates
Twitter is ideal when making live updates of an event or trade show. Anyone following you will be able to see what is going on and may head over to your stand if something interesting is happening. Social media in general is a powerful tool for creating a pre show buzz around your exhibition stand. People often visit events found on Facebook.
Use New Technology for Displays
Some new technology can be a little "gimmicky" and go out of fashion rather quickly. Over the last few years there has been many advancements in visual technology, the most notable of these is 3D projection mapping. This is where an object is turned into the display for a projector which could be anything from a musical instrument to a whole building.
Thank you for reading my guide on how to make your exhibition stand out, I hope there are some key points to take away to help improve your stand.
Nutcracker Exhibitions are specialists with how to make your exhibition stand out with our unique project managed approach. Our sister company Nutcracker Design can supply any print or web design to suit your requirements.
Let me know about your thoughts or suggestions in the comments section below.